Locarno review: A Study of Empathy (2023)
Locarno Film Festival
Pardi di Domani – International Competition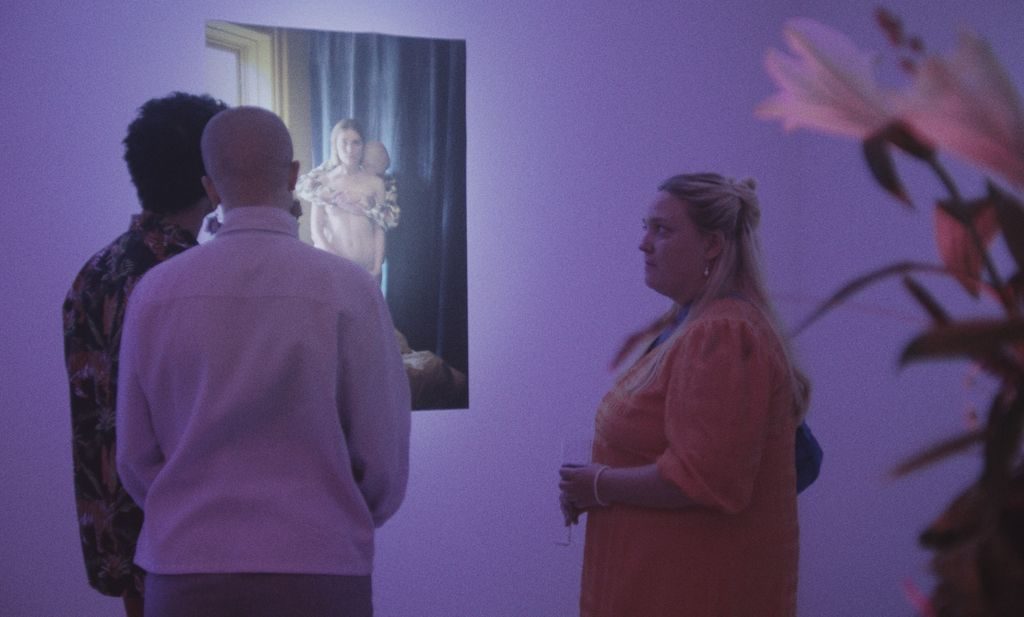 Every now and then I am contacted by friends and aquaintances who ask me if I would be willing to help their relatives/ friends to finish their theses by filling questionnaries about diverse topics. I am not sure how many I did so far, but luckily none of the people I gave my consent to be asked something about, have shown up at my doorstep to read questions out aloud, while filming the whole process (not that I would necessarily let them in).
As with statistics that rely on the fraction of populace to study certain behavioural patterns, habits or preferences, questionnaries are there to draft frames around a specific interest area. When used for individual purposes, they can be shaped or manipulated to fit the empty canvas if one desires, since no one can tell what you do when things are handled under the veil of anonymity. And – just how belieavable is the honesty of given answers? This is a question that gains on relevance in times of re-coded language, when new politically correct terms are spoken loudly, while the old ones are still whispered inside of one's skull. The preassure of saying things right is constant, and the consequent fear of failing even bigger. It is therefore interesting to observe what happens when we drop our guard and have to react on something right on the spot.
In Hilke Rönnfeldt's drama A Study of Empathy the story is peppered with black humour, irony and metaphors, all welcome condiments to help explore the hypocrisy of human heart. The film resolves around the encounter between a young idealistic woman and an artist who uses different letters to explore empathy evoked in her subjects for the art school graduation project. Approached in one manner in written word, and ambushed 'live' in form of an art performance, Dana (Sara Klein Larsen) isn't sure how to react and she barely does, not even when her guest suddenly undresses to proceed with the reading. Is what we see the naked truth, or discomfort with nakedness? The director highlights a vast clift between the spontaneous reactions and staged approach to researching the response, and she does it skillfully. Dana is instructed to connect to her emotions: "I am going to read you a letter. Then we experience the moment after, and then I take a photo of it." The result of this process is tragically beautiful. Another form of communication is given in the visuals reflected in two mirrors in the host's living room with a clear aim to contrast and compare the body language, and to make us aware of the camera. Later on, also through a clear division of the two uneven worlds defined by the shots through windows and glass doors caught by the lense of Roxana Reiss.
Emilie Claudius Kruse is impressive as the poker-faced, enygmatic art student Pénélope who certainly knows what she wants, and she gets it. Likewise Sara Klein Larsen excells in her portrayal of a woman who is briefly pushed out of her comfort zone. Her transformation on-screen is majestic. Overall, the film's cast is excellent and it also includes Lisa Carlehed in a cameo role (recently admired as August Strindberg in Henrik Martin Dahlsbakken's biopic "Munch") as a posh gallerist. Regarding the script itself, the textual codes of A Study of Empathy are simple, but highly functional.
For the first half of the movie's runtime, the music is completely absent but when it arrives, it brings magic to screen by none less than the groove king of Bronx Leslie Ming whose drumming swiftly blends with the metalic noises coming from the outside.
Warm orange tones are chosen to blow any form of sullen sentiment away, and this shiny pearl selected to screen in Pardi di Domani international competition of Locarno Film Festival surely deserves to travel the world.
---
Original Title: En undersøgelse af empati
Country: Denmark, Germany
Language: Danish
Year: 2023
Runtime: 15′
Written/ Directed by: Hilke Rönnfeldt
DoP: Roxana Reiss
Production: Frau film
Co-Production: North Ship Film
Producer: Asbjørn H. Kelstrup
Cast: Sara Klein Larsen, Emilie Claudius Kruse, Lisa Carlehed, Mathias Broe
Executive Producer: Maria Møller Christoffersen
Production design: Josefine Friis Lange
Editing: Josefine Svenningsen
Sound Design: Juuso Oksala
Music: Leslie Ming
Costume Design: Fredericke Kellberg
Hair & Makeup: Louise Weiland