VIENNAFAIR The New Contemporary 2012 kicked off

The wind of change has swept through the core of VIENNAFAIR, making space for more side projects and interesting performances packed in a good structured program. It is a different atmosphere compared to previous years, particularly concerning VIENNAFAIR The New Contemporary 2012's serious attempt to establish a stronger connection between art and galleries from Central and Eastern Europe (CEE). New name, new artistic directors (Christina Steinbrecher and Vita Zaman) and a clearer programmatic concept have visibly contributed to a more international flair.
In this first report, I would like to briefly mention two projects: 1) VIENNA Quintet dedicated to the new Art from Azerbaijan, Belarus, Georgia, Kazakhstan and the Ukraine and 2) DIYALOG: Art from Turkey curated by Nazlı Gűrlek, a project designed to create an art platform for seven prominent Istanbul-based galleries (Empire project, Mars Istanbul, Galeri Nev Istanbul, NON, Rampa and Rodeo), also giving the space to important cultural institutions, museums, independent project spaces and other art initiatives such as Istanbul Biennial, Mardin Biennial, Sinop Biennial, Istanbul Modern, Arter, Proje 4 L / Elgiz Museum of Contemporary Art, DEPO Istanbul, BAS, Cuma, Protocinema, collectorspace or PiST Interdisciplinary Project Space_ Istanbul, which present their activities in the INFO ZONE (read more about VIENNA Quintet & DIYALOG: Art from Turkey in one of the next reports)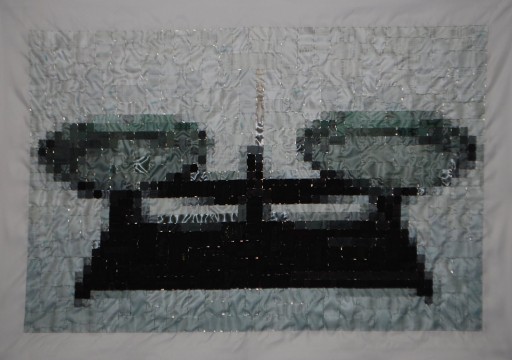 After having visited a number of exhibitors' booths, my first selection falls on five artists. The one who immediately comes to my mind is Sabire Susuz (represented by the gallery Merkur from Istanbul) who works with cloth labels fixed with pins on fabrics, mostly silk. The artist uses labels removed from her own clothes as a way to create her own identity label, using them to create patchwork quilts arranged with such a precision that the artworks look more like large pixelated images.
My second choice is the Turkish artist Ali Taptik (Gallery The Empire Project, Istanbul) who lives and works between Istanbul and Vienna. In his triptich "Depression, Gürtel & Longing", a critical approach to the Gürtel area with its infamous small brothels and massage parlours turns into a sharp, powerfull visual analysis of ever easier access to commercialised pornography through search machines and smart phones. (Gürtel is a circular road in Vienna which originates from fortification wall built under emperor Leopold I, stretching through couple of districts – today part of subway network).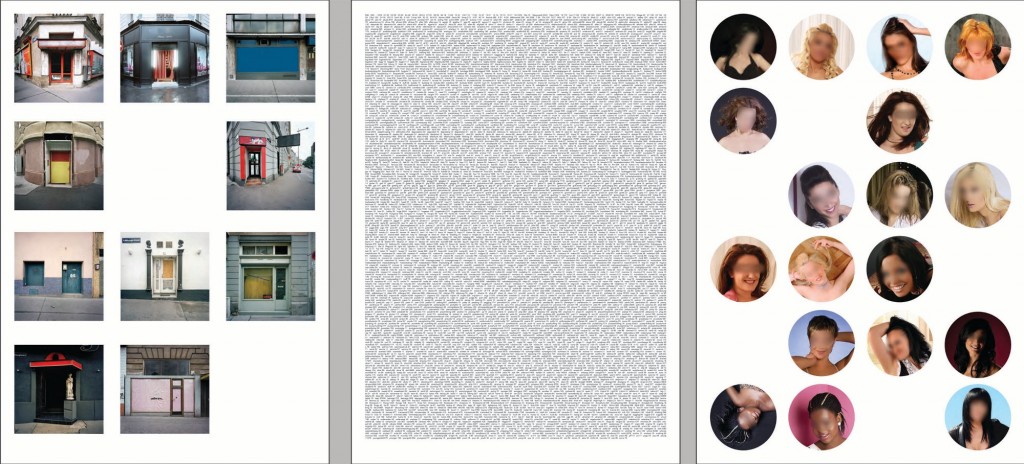 I can't help but mention one already internationally acclaimed artist whose installation kept my attention for at least half an hour – Žilvinas Kempinas, who was representing his country of origin Lithuania at the Venice Biennale 53rd International Art Exhibition in 2009 with the installation "Tube", a 25 meter long passageway made of stretched lenghts of videotape. Unspooled tape is Kempinas' favourite material since many years and the visitors of VIENNAFAIR will have a chance to have a glimpse at one of his most recent installations – "Fountain", showcased at the booth by Vartai Galerija from Vilnius. It's an impressive piece of work with an effect of waves of tape perpetually emerging from the rotating fan.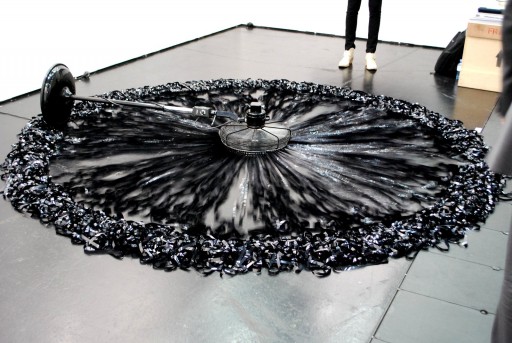 Berlin-based gallery Campagne Première shows, among other artpieces, a selection of videos and installations by Noa Gur: "Burning Bush" 2012 (video installation 28 min loop), "Painting on all fours" 2010 (C-prints on alu-dibord) and "Tears go black", 2009, a two channel video installation with one projection of water dropping over a prop on the wall and another one showing slowly growing pool of wather on a tiled floor. It is a story of the beginning and the end of one artistic process, put together in a perfectly fitted visual form.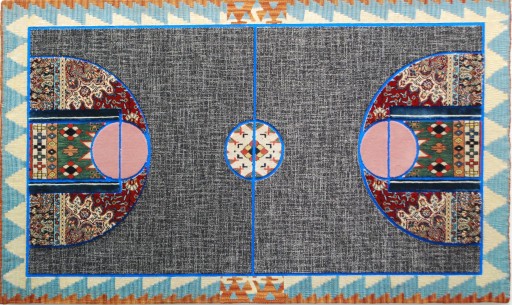 Last but not least, I would like to mention "Pattern Matching" 2010, collage from carpets of different origin by the Turkish artist Nevin Aladağ.The work exhibited by gallery Rampa at the VIENNAFAIR is just a part of a series of five pieces bearing the same name. Aladağ has already used carpets in other projects, such as "Carpet-ball game" (which also can be seen at the Rampa boot) and in her installation "Carpet Column" at the Biennale Cuvée in the OK center of Contemporary Art in Linz 2009, where she wrapped six columns with fitted-size carpets.

Just to remind you that VIENNAFAIR The New Contemporary 2012 features 122 Austrian and international galleries from 26 countries.
Opening hours:
Thursday, 20th of September: 11 a.m. – 7 p.m.
Friday, 21st of September: 11 a.m. – 9 p.m.
Saturday, 22nd of September: 11 a.m. – 7 p.m.
Sunday, 23rd of September: 11 a.m. – 6 p.m.
For more practical information and detailed program, visit VIENNAFAIR The New Contemporary 2012 official website