Review: Always Amber (2020)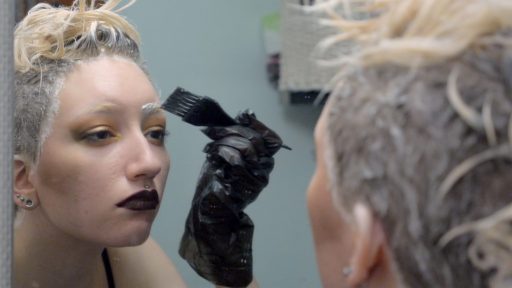 Lia Hietala and Hannah Reinikaien are filmmakers who after a couple of short films (directed individually), have joined forces to shoot their debut feature documentary Always Amber about a queer, non-binary seventeen-year-old called Amber, their self-search, friendships and love. The film had its world premiere in the Panorama Dokumente section of the Berlinale.
We meet Amber for the first time during their visit to a renowned Swedish psychiatrist who is supposed to do the psychological evaluation and establish a diagnosis. The reason for that will stay a secret for a little while, leaving us enough space to get to know Amber first. The pronoun "them" is not used here carelessly, and it's not a grammar mistake. Speaking to the doctor, Amber expresses a wish to be addressed as "them" and defines themseleves as a non-binary person.
To break the classical pattern of explaining and over-defining, Hietala & Reinkainen had chosen to include excerpts from the home videos shot from the different phases of Amber's childhood to continue where they stopped talking about themselves. The viewer can witness the gradual transformation from the gender-specific- to the gender fluid phase of Amber's life that began in the puberty, and skips on the usual lessons in genderqueer identities. This is done through a swift editing that makes the narrative flow, which couldn't have beeen an easy task considering how many people were involved in the filming process.
Camera switches hands and gives the film different emotional nuances. The most intimate comes when filmed by Amber who is practically never alone with their thoughts, and the film also shows to which extent a friendship with a person whose identity is similarly "out of the box", can impact one's life. That person is physically absent from the first third of the film, due to a conflict surrounding a love interest, but at the moment Sebastian appears and stops being just a verbal shadow from the past, the dynamics of the documentary changes. Best friends since many years, both have developed dependency on each other to be able to express their identities to the fullest. At the same time, they are pulling breaks on each other's freedom to chose other friends and partners.
Probably not quiet deliberately, Lia Hietala and Hannah Reinikaien capture the fragility of a young person's sexual identity. When Amber gets what they want, they suddenly don't desire it anymore. We thus get reminded of doctor's questions and advice to wait until a later phase in life.
Always Amber is not just a film about the gender identity, it also shows the hormonal roller-coaster that puberty is, which throws teenagers in the existential agony anyway.
---
Country: Sweden
Runtime: 76 min
Language: Swedish, Italian
Directed by: Lia Hietala and Hannah Reinikainen
Camera: Lia Hietala, Amber Mastracci, Luciano Mastracci & Alma Mastracci
Editing: Hannah Reinikainen, Lia Hietala, Anton Hemgren & Charlotte Landelius
Music: Shitkid
Graphic design: Bastion – Agency Studio Lab
Sound design: Fredrik Strålnegrading Kim Ekberg
Assistant director: Neil Wigardt
Produced by: Story
with support from: UnCut, Film Capital Stockholm / Beata Mannheimer, Film Stockholm / Filmbasen / Anne-Marie Söhrman Fermelin, The Swedish Film Institute / Juan Pablo Libossart
in co-production with Sveriges Television / Matti Kentrschynskyj
producers Göran Hugo Olsson & Melissa Lindgren