Review: Doom Cruise (2021)
Vienna Shorts
Animation Avantgarde
Jury Prize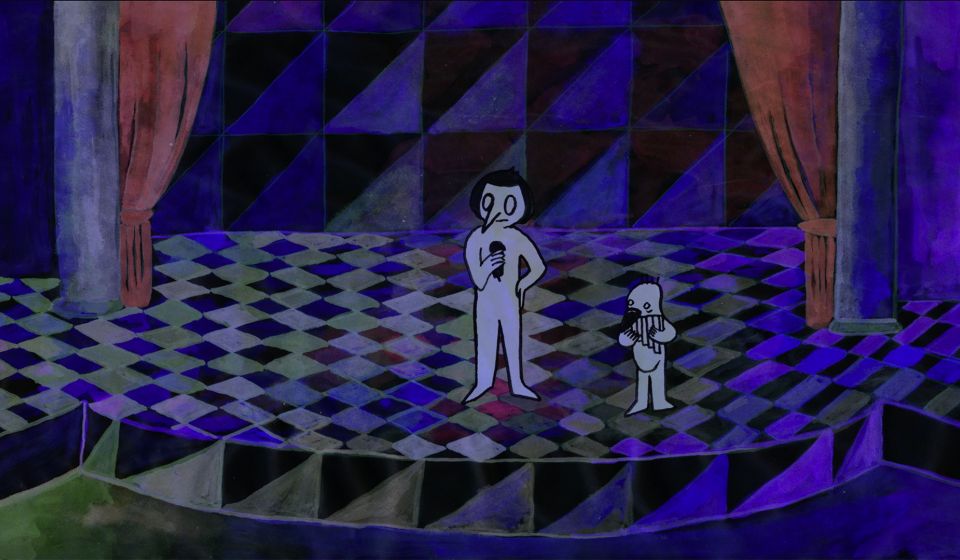 Are children's drawing really that idyllic as they are usually presented? Actually, it depends of the context. Sometimes they can be quite unnerving, even disturbing. Maybe the apocalypse will look like children's drawings, mixed with geometrical abstraction done in wax colours over the black background. That is how the Jury Prize winner of Vienna Shorts' Animation Avantguarde, Doom Cruise, animated and directed by Hannah Stragholz and Simon Steinhorst, looks like.
Imagine the hybrid of the Titanic and Costa Concordia in the end-of-the-world scenario. It is not that hard, just replace the orchestra with out-of-tune karaoke, and that would be it. Imagine passengers trying to make sense of their lives, to recollect their memories and say goodbyes with everybody and everything, with a dead bird as the perfect replacement object, the Greek captain with a stage fright when it comes to delivering the apocalyptic news, the integral machine part that speaks Russian and the bird-like people with long, pointy, peck-y noses.
It is the end of the world, not just as we know it, but literally, so anything goes. However, some things like synth music, sometimes drony in the absence of melody, go with it perfectly. It even serves as a symbol of things breaking apart. However, there are some problems with other aspects of the film, like the provisional sense of coding of certain passages, style-wise, which leaves the impression that the creative duo were on the verge to lose control, aiming too high and too wide with this serious social metaphor of the current state of things. But, it is the end of the world, they struck the right string emotionally, so let us not over-analyze.
---
Year: 2021
Country: Germany
Languages: German, English, French, Russian, Greek
Runtime: 16'45''
Directed by: Hannah Stragholz, Simon Steinhorst
Written by: Olivia Schrøder
Cast: Marianna Dimitriou, Katharina Huber, Oleksandra Makhlina, Jonas Preben Jørgensen, Mathilda Schöpfer, Bob Schrøder Grim, Olivia Schrøder, Jaavar Sidi Aly, Marcus Zilz
Animated by: Hannah Stragholz, Simon Steinhorst
Music by: Elisa Kühnl, Marcus Zilz
Sound by: Marcus Zilz
Sound recording by: Lasse Munk
Production company: Studio Corallo
Supported by: Film und Medien Stiftung NRW