In talk with the directors of "Thorn", André Guiomar and Mya Kaplan: "We already had a draft of the story on our first day of work"
Mya Kaplan is an Israeli writer, director and cinematographer. She graduated Steve Tisch School of Film and Television, Tel Aviv University. Her diploma film Night Visit (2021) was selected at the Ciné fondation section of Cannes Film Festival. She also acted as the festival Director of the Tel Aviv International Student Film Festival for two years. She is currently developing a TV series and working on her first feature film titled The Physical Element.
André Guiomar is a Spanish director and producer, who holds a master degree in Cinema and Audiovisual arts from The Catholic University of Portugal. Upon graduation, André moved to Mozambique for 3 years. After his return to Portugal in 2018, he founded his own production company "Olhar de Ulisses". He's a cinematographer and editor for national and international productions. His debut documentary Our Land, Our Altar bagged Youth Jury Award at ZINEBI Festival and Emerging Director Award at the Porto/Post/Doc Int. Competition. André has previously directed four short films: "Skin of Light" (Jury Prize at Doclisboa), "Python" (2011), "Towers" (2013) and "Saturn" (2022). He was cinematographer and editor of "The Mother and the Sea" (2013) by Gonçalo Tocha, DocLisboa national award and Best Editing at Cineport. In the last three years, André has produced several films which premiered in a great number of international festivals. He is currently working on his 1st fiction feature, What Remains.
Kaplan and Guiomar were among eight directros who were selected to finalize films for this year's project 'Directors' Factory: North Portugal', that opened Director's Fortnight in Cannes.
Their film "The Thorn" was set up in a rural, tight-knit community in the north, and focuses on a teenager Téo and a strange connection that the boy develops with a new priest who has just returned from his mission in Mozambique.
We met at the so called Quinzaine Beach to talk about their collaboration, and the challenges and inspirations it brought.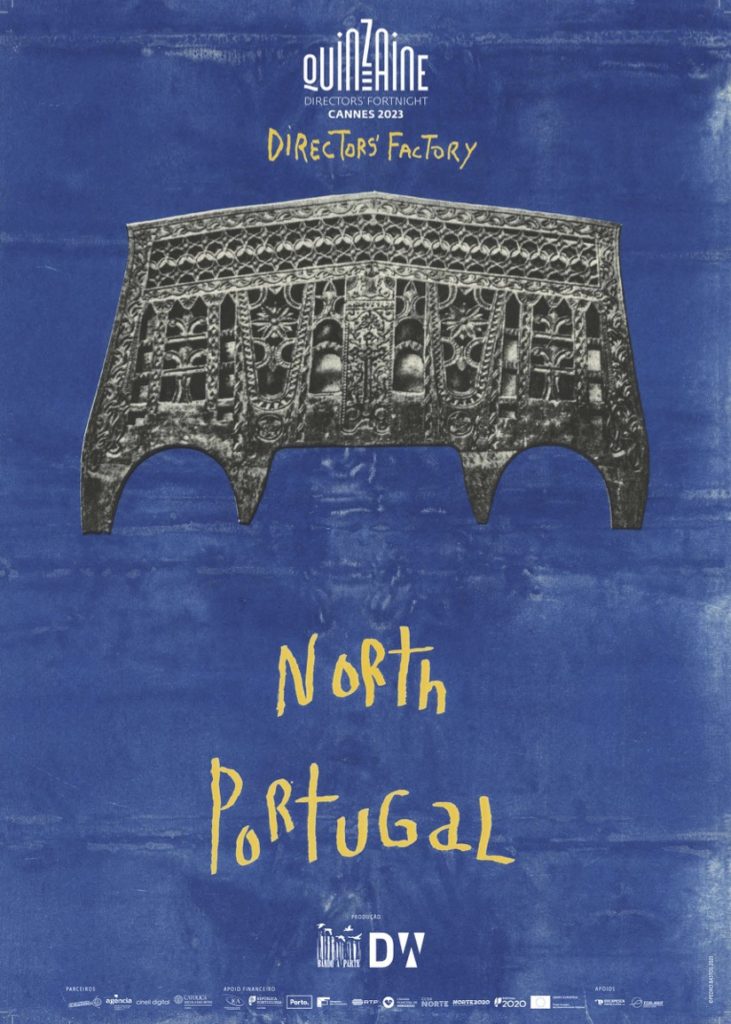 ---
How was the atmosphere at the premiere here in Cannes?
MK: Full house, an amazing quality of the screening, and the energy was electrifying.
AG: So far we had only amazingly positive feedbacks. We can't complain.
Portugal meets Israel. How were you designing the story together?
AG: Probably, the first thing was to explore my understanding of the northern territory, and see if she could understand everything what I like and dislike when I think about it. Eventually, we understood that our backgrounds were not so dissimilar, and that we had something in common. At the same time, we wanted to see the differences. This involved the process of watching each other's movies. I worked hard on figuring out what I wanted her to bring to the project. And she did the same.
The story is very layered. There is a bit of political history involved, with the priest coming back from Mozambique after many years of 'spiritual service' there. Then, there is a hidden question about why he came back. And the other, scary aspect of possibly being served that answer.
AG: We already had a draft of the story on our first day of work, but we wanted to create the space both for the boy and for the priest. We were not sure which one came first. So, basically I found a connector in the detail that the teenager and his family also returned from Mozambique some years prior, after which the father abandoned his wife and children. I wasn't interested in reasons why the priest left his mission in Mozambique.
I think that I have an idea why.
AG: I bet you do. We discussed those things for a long time. While we were creating the family story, for us was very important to show a relative who is still super racist, who still lives in the past, and young generations conflicting with the old ones.
MK: The character of the priest still holds this duality. As a man of the church, he is very conservative, but on the other hand he is liberal and tolerant because he has seen the world. The things he is talking about are completely new to Téo.
The young actor Miguel Ribeiro that you casted for the role of Téo is something of a Portuguese Timothée Chalamet. He has an incredible presence on screen. How did you find him?
MK: We were just lucky. Since the whole project is set up in the Northern Portugal, we were focused on acting schools around this area, and we were extremely lucky. He was in his first year of studying theatre in a film scholl in Porto, and he had the qualities just built in in his energy, and his looks. The moment we saw him, he simply stood out.
AG: I actually remember quite well the moment I arrived to our casting. I saw ten kids lined up waiting to be sent in, but he immediately caught my eye in the corridor. He had a special energy. Everything about him . the way he behaved and moved, or the way he spoke was exactly what we were looking for Téo's character. Afterwards, when he started telling his lines, his voice was still the one of a boy. Deep enough, which was beautiful, but still not very adult. I called him immediately after that casting, knowing that we found a good kid, but then we needed to find someone equally charismatic for the role of the priest for a perfect pairing. It was not hard to find a good actor, but he needed to be connected with Miguel. At the end, it all worked so well.
MK: And the boy, although very young, he had the ability of staying completely natural while doing his scripted lines.
You also worked with a number of non-professional actors, and casting them can sometimes become more difficult than finding the professionals.
MK: The production team was incredible, and they found a lot of local people from the area. Andre could immediatelly recognize their authenticity, and it was clear that they all come from that part of the country, because they speak in a specific dialect. Because we were two on the monitor, it also helped us to direct the extras. When you are alone, you tend to be focused on the main characters. More eyes see better than two.
AG: It was funny that most of the people that you see in the scene where a family party takes place, are in fact a family in real life. It was great, because one of the producers stood close to them, so he managed to arrange that 20 people come to help us shoot that scene. It was quite easy for us to say: "Just be as you are when you have a typical family gathering."
Don't tell that it was also their house.
AG: No, but I can tell you that we shot the complete movie in one street. Everything was filmed in the 100m radius.
Have you already had a chance to show them the movie?
AG: It is going to be in July during Curtas Vila do Conde festival. We will bring everyone and watch the film together.
What is the best experience you both had during your collaboration?
AG: I have to be honest, the outcome of it. I am working on my 1st fiction feature at the moment inspired by the characters, and when I saw Maya's first short (Night Visit, 2021), I was completely impressed by the way she created the rhythm between two leads. I became aware of the specific seal she could bring to the project by working with the actors.
MK: For me, it was a similar experience. I watched André's previous works, both documentaries and fiction, and was very impressed with the richness of the images and the set up, and generally with the whole proposition. We were genuinly trying to learn as much about each other, and the way we workto reach a common expression language.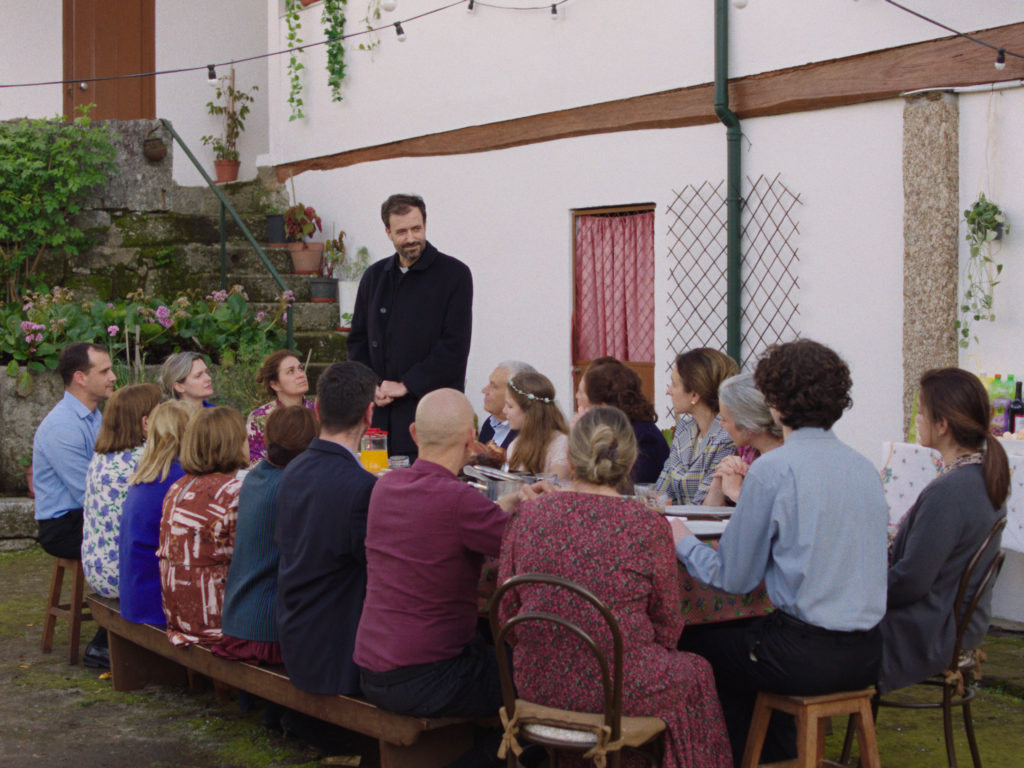 ---